$5,000 raised for St. Mary's through their summer e-billing campaign

Thank you to Enova Power for their generous donation of $5,000 via their summer e-billing campaign. For each customer that switched to e-bills before August 1, Enova contributed $5 evenly split between St. Mary's General Hospital and Grand River Hospital foundations.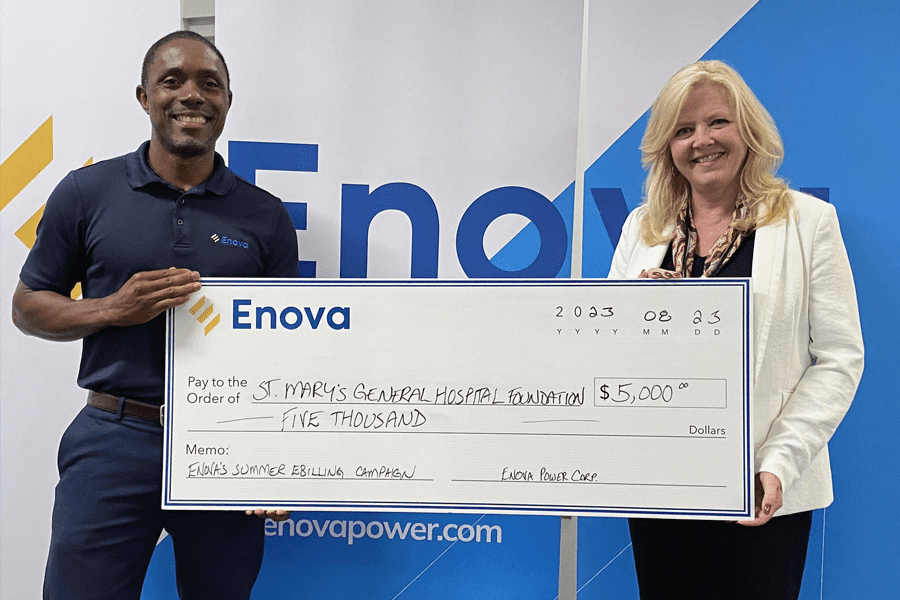 Together, you've made a significant impact toward enriching each hospital's mission while simultaneously helping the environment through e-billing - by reducing paper consumption, energy use, waste generation, and emissions.
Enova Power Corp. (Enova) serves 157,000 residents and businesses in the City of Kitchener, the City of Waterloo, the Township of Wellesley, the Township of Wilmot and the Township of Woolwich.
Enova is proud to be an industry leader in innovative projects and partnerships and through recent projects, they've embraced and harnessed new technologies to push the energy sector forward while also decreasing their impact on the environment.
Our community relies on generosity from caring individuals and organizations to support the delivery of compassionate and innovative care at St. Mary's General Hospital.

Want to support local healthcare at St. Mary's General Hospital?