Legion Poppy Fund Donation
Over $29,000 raised for retherm carts for Patient Food Services department

Thank you to the Royal Canadian Legion for their incredible support for St. Mary's General Hospital through their annual KW Poppy Fund donation.
The Legion raised over $29,000 for SMGH in 2022, which will help to fund new retherm carts for the hospital's Patient Food Services department.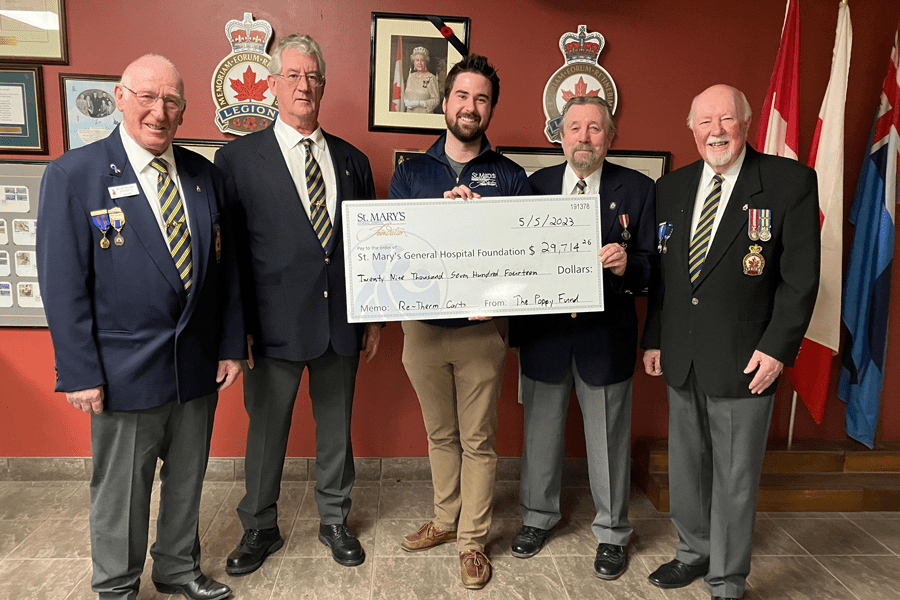 The Legion's Poppy Fund initiative is a testament to their unwavering commitment to supporting the welfare of veterans and their families, as well as the communities they serve.
Their generosity has enabled St. Mary's General Hospital to acquire the necessary equipment to provide better patient care and support. We are immensely grateful for the Legion's continued support and partnership.
What is a retherm cart? Rethermalization of patient meals (whether in bulk or tray formats) is a common practice and it is enhanced by using advanced meal delivery systems that act not only as the rethermalization unit but also as a vehicle to deliver foods.
Rethermalization of patient meals means that food will be re-heated from a cold or frozen state which inherently means that the facility can prepare foods well in advance of meal service.
The generosity of caring individuals and organizations within the community is relied upon to support the delivery of compassionate and innovative care at St. Mary's General Hospital. There are many ways to get involved and help provide that much-needed support.

Want to support local healthcare at St. Mary's General Hospital?