RedDAY Highlights Ongoing Need to Boost Access to Diagnostic Services for Positive Health Outcomes

Kitchener-Waterloo Region, June 5, 2023
It's a day to wear red. It's also a day to come together for healthcare.
The annual RedDAY community event for St. Mary's General Hospital returns Friday, June 9.
Presented by Manulife, this year's RedDAY brings together individuals, families and employers to fundraise for essential diagnostic equipment. Manulife is matching RedDAY donations, dollar for dollar, up to $200,000.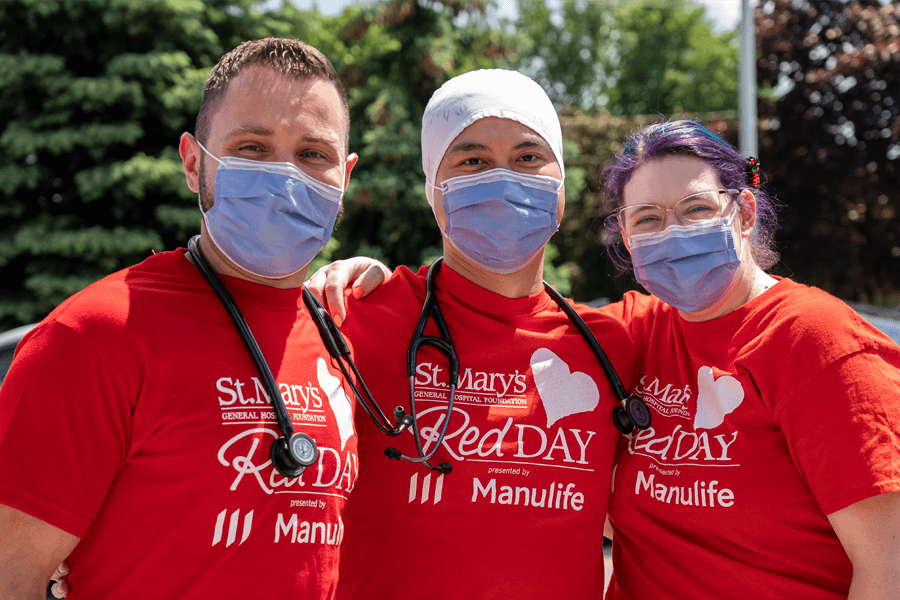 More than one million diagnostic tests are performed annually at St. Mary's. Whether it's blood work, ultrasound, x-ray or electrocardiogram, a diagnostic assessment is the first step in a patient's healthcare journey – it determines treatment plans and impacts outcomes.
Reliable, state-of-the-art technology is key to providing patients with the most accurate and timely results.
"Early diagnosis can save lives. It paves the way for the patient to get the right treatment they need, ultimately preventing diseases from progressing. Community donations through RedDAY help us maintain and upgrade our suite of essential equipment; they enable us to deliver the best care possible," says Susan Dusick, President & CEO, St. Mary's General Hospital Foundation.
Manulife is committed to empowering sustained health and well-being to support the journey towards a better life through its recently released Impact Agenda.
"RedDay provides a meaningful opportunity to come together to support the health and well-being of the Kitchener-Waterloo community," says Tom Crohan, Global Head of Community Investment, Manulife. "We're proud of our partnership with St. Mary's General Hospital to help improve health outcomes for those they serve, and we hope individuals, families and fellow employers join us again to support this worthy cause."
Recent highlights of St. Mary's Hospital's enhanced ability to deliver care to a growing population include:
Funded St. Mary's first cardiac MRI, with construction slated for July 2023
Funded portion of a new cardiac catheterization suite
Helped purchase echo ultrasound equipment, essential to monitor heart procedures
Contributed to everyday medical equipment like patient lifts to the cardiovascular intensive care unit

Want to learn more? Visit the RedDAY website.
St. Mary's General Hospital Foundation

About St. Mary's General Hospital Foundation
St. Mary's General Hospital Foundation is a charitable organization dedicated solely to generating financial support for the lifesaving care provided by St. Mary's General Hospital. Funds donated by the community through St. Mary's General Hospital Foundation go toward vital equipment, construction and resource requirements for St. Mary's General Hospital which are not covered by or exceed funding provided by the Ontario Ministry of Health.
About St. Mary's General Hospital
Located in the heart of Kitchener, Ontario, St. Mary's is an adult acute-care hospital and Regional Cardiac Care Centre. Serving Waterloo Region, Wellington County and beyond, St. Mary's has an established reputation for providing quality, compassionate and innovative care. The hospital's cardiac team provides more than 4,800 cardiac catheterizations, 825 cardiac surgeries and 425 pacemaker insertions every year. St. Mary's patient-centred approach to care is augmented by a strong and dedicated team of more than 325 volunteers who contribute nearly 40,000 hours of service a year in 100 unique roles and programs.
For more information, visit smgh.ca